YOGA IN SRI LANKA
Welcome to a week Yoga retreat
at Talalla, Sri Lanka
The retreat features daily morning meditation and Pranayama, two Yoga Asana classes per day, twomid afternoon Yoga Nidra / Yoga lifestyle discussion, one hour Yoga movie, the Origins of Yoga, one Yoga T-shirt, and one Yoga booklet to accompany your further practice back home. One hour Talalla Massage, luxury accommodation and delicious vegetarian meals, incorporating fresh fruits and vegetables.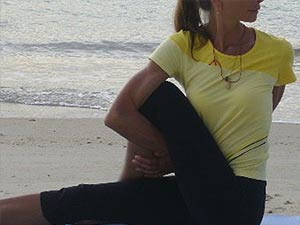 Yoga sessions includes detailed instructions on Pranayama and Meditation as well as Asana classes ranging from dynamic Vinyasa Flow to restorative styles. Yoga Nidra is also introduced to induce a deep state of relaxation.
Free time during the day allows for relaxing by the pool, walking along the beach, going for a surf, or perhaps snorkelling around the reef or benefitting from the full service SPA.
Beside Yoga retreats, two daily Yoga classes are taking place :
Open Yoga class
morning 7.30am till 9am, afternoon 4.30pm till 6pm : 15$ including taxes
Private Yoga classes, Private Therapeutic Yoga, Private Meditation, Private Vinyasa Flow are available on request
Join me for an unforgettable week to deepen your Yoga practice, relax, restore and rejuvenate !
2015
October : 12th - 18th (Off peak rates apply)
November : 7th - 13th (Off peak rates apply)
December : 5th - 11th (Shoulder rates apply)
2014
October : 11th - 17th (Off peak rates apply)
November : 1st - 7th (Off peak rates apply)
December : 6th - 12th (Shoulder rates apply)
2013
October 7th - 13th (Off peak rates apply)
November : 4th - 10th (Off peak rates apply)
December : 2nd - 8th (Shoulder rates apply)
2012
October : 8th - 14th & 22nd - 28th
November : 5th - 11th & 19th - 25th
December : 3rd - 9th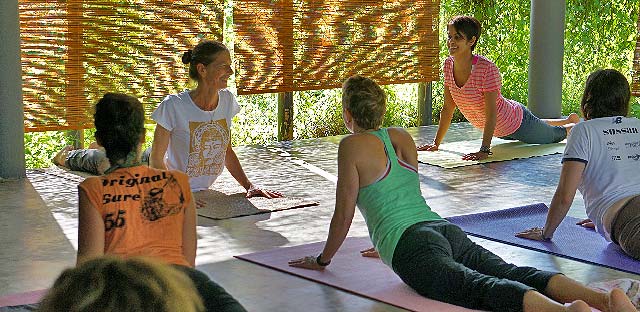 ---

Retreat schedule
Day 1
Early afternoon arrival, relax and settle in
3.30pm Introduction and presentation
4.30 pm - 6.00 pm Optional afternoon class (free for retreat participants)
Day 2
6:30 am - 9:00 am Meditation and Pranayama and Asanas class
4:30 pm - 6:00 pm Asanas class
Day 3
6:30 am - 9:00 am Meditation and Pranayama and Asanas class
2.00 pm - 3.30 pm Yoga Nidra
4:30 pm - 6:00 pm Asanas class
Day 4
6:30 am - 9:00 am Meditation and Pranayama and Asanas class
4.30 pm - 6.00 pm Asanas class
6.15 pm - 7.15 pm Yoga movie
Day 5
6:30 am - 9:00 am Meditation and Pranayama and Asanas class
2.00 pm - 3.30pm Yoga lifestyle discussion
4:30 pm - 6:00 pm Asanas class
Day 6
6:30 am - 9:00 am Meditation and Pranayama and Asanas class
10.00 am - 11.30 am Temple visit (optional)
4:30 pm - 6:00 pm Asanas class
Day 7
7.30 am - 9:00 am Pranayama and Asanas class
9.00 am - 9.30 am Ending circle
---
Retreat rates:
OFF PEAK RATES

Apr 31st to July 31st
Sep 1st to Nov 19th

Bungalow

USD 717 / 643
Single / Double

Big House

USD 829 / 689
Single / Double

Luxury Villas

USD 934 / 747
Single / Double
SHOULDER RATES

Aug 1st to Aug 31st
Nov 20th to Dec 19th
Feb 1st to Mar 31st

Bungalow

USD 792 / 671
Single / Double

Big House

USD 941 / 759
Single / Double

Luxury Villas

USD 1091 / 848
Single / Double
RETREAT RATES are inclusive of all taxes & service charges and include:
6 nights accommodation
3 delicious meals per day
Yoga course (Asana, Pranayama & Philosophy)
1 Yoga movie evening
1 Yoga T-shirt
1 Yoga booklet to accompany your practice back home
Complimentary 1 hour full body Talalla massage
---
Testimonials Talalla winter 2014

I just wanted to thank you again for your inspiring, relaxing and fun yoga classes at
Talalla last week :-) I really enjoyed my stay and your classes were a great help to
me in letting go and reaching a calmer mind by the end of my week - I am already
missing my twice daily yoga "refresher" and thinking of ways that i might incorporate
even just some meditation and breathing exercises in the morning before work, I was
really amazed by how peaceful a daily practice left me feeling and want it to continue.
Andrea Cartwright, 12 October 2014

Sandra,
Firstly thanks for being so patient, and secondly making me feel a part of the retreat
experience despite being a complete beginner. We really appreciated the approach taken and feel the lessons learnt in your classes provide us with a solid base on which to further our knowledge and practice of yoga. Thanks again for the enriching experience during our time together.
Mark & Mila - October, 16, 2014

Dear Sandra,
We can't thank you enough to the complete "yoga" experience. Our practice has come so far in such a small amount of time, we both feel so much stronger and balanced. It has been such a pleasure getting to know you and hearing your incredible stories. Sharing meal times together have helped us feel very supported as we were able to reflect on our meditation, pranayama and asana experiences (sorry of there are any spelling mistakes). We will be very sad to say goodbye to you tomorrow and hope to see you again in the not too distant future.
Much Love, Luca and Jess - October 16th, 2014

Dear Sandra.
Thanks for allowing me to (and encouraging me to!) join the retreat at the last moment. It has been a great chance to test my boundaries and to learn some new practice, which I hope to find a lace for In my daily life. I just cam back from my run on the beach and did some asanas Ji
The location is amazing and the retreat has been challenging and fun. Hope to see you again and will keep you updated.
Catherine - October 17th, 2014

Our beloved Sandra Ji
We are very grateful to be on your retreat for the second time. You and your teaching still have met our expectations and maybe in some way they also overcome our expectations. Once again, we've deepen our practice with you. You've taught us many, many new techniques either in asana practice, either in pranayama & meditation and of course in the yoga theory.
We love your yoga classes, their structure and the idea to focus on few asanas, so we learn step by step how to hold the proper posture. And of course we had lots of fun. And we have also found new friends. That was a very pleasant week, we enjoyed your spirit and love your sense of humour, your openness and you as a person. We also appreciate the temple visit which is new to the retreat since this year. Looking forward to practice with you again.
Alena & Branskislav, 5 Nov. 2014

Dear Sandra,
It has been a fantastic retreat with you this week. Thank you so much for encouraging me to join this week. My practice has definitely improved & I appreciate the focus on the postures & not only getting them right but feeling & understanding the correct posture. I believe that my objective of deepening my practice has definitely occurred & for the first time (in 4 years of practicing yoga) I feel confident I will do solo practice frequently. I have also really enjoyed getting to know you. Thank you for our openness, patience & loving spirit. I feel stronger & happier.. so thank you for your valued input to this ! Rarely do I return to places but I already know I'll be back to Talalla to come to your retreat. Thank you.
Clare, 6 Nov. 2014

Dear Sandra
I have had such a happy week, thank you. Reading all of the testimonials on your website before I came, I had very high expectations and they were more than surpassed. Our have a wonderful, gentle, intuitive style, helping us all to grow and challenge ourselves, just enough, o matter how experienced we are at yoga. Thank you. The retreat has gone by so fast and yet I feel like I have been on holidays such a long time. I am very refreshed. Thank you also for being so welcoming outside of the yoga class, having a "yoga table" at all the meals built a great sense of friendship and community amongst the"retreaters" especially the solo travellers. I hope to practice again with you one day.
Rosie / Australia, 6.11.2014

Chere Sandra,
Une des raisons de mon sejour (12 jours) a Talalla Retreat etait la possibilite d'une pratique reguliere du Yoga. En tant que debutante, j'ai beaucoup aime la qualite de ton enseignement tres progressif et de tes explications des postures. Ton attention et ta tolerance des difficultes de chacun(e)s etaient tes appreciables et encourageants.
Je regrette de ne pas avoir pu profiter d'avantage de la connaissance du Pranayama et des technique de Meditation, n'ayant pu etre la au moment d'une session de retraite. En tous cas cette initation intensive m'a bien convaincue de poursuivre cette pratique a mon retour en France. D'autre part je suis tres contente d'avoir pu faire ta connaissance et discute de divers sujets non specifiquement yoguistique, et j'espere que nos chemins se croiseront an ouveau un jour. Je te shouahtie une bonne continuation sur ton chemin spirituel et dans ta vie.
Marie 17.11.2014

Dear Sandra,
- I love when you make us hold it just a liiitle bit longer
- I love that you are practising yoga and not just teaching yoga
- I love your french accent in the yoga shala
- I love that you make us inhale and exhale
- I love that you are not taking it all too seriously
- I love that you care about our alignment
- I love that your heart is open.
Thank you, thank you, thank you
Stine, 18.11.2014

Dear Sandra
Thank you for such a beautiful week at Talalla. Waking up to yoga and feeling so energized after every session with you was truly a highlight to my trip. I appreciate your method of teaching, gentle in spirit but pushing each one of us to reach our potential and assisting us to connect with ourselves and our bodies. I feel after 1 week that I am on a new path and one which is more aligned to who i really am.
I can see this is just the beginning of a long journey ahead but this week has helped to awaken my spiritual side which has laid quite dormant for some time now. I will miss your gentle smile in the morning but what is exciting is that I hope to meet you again in India on your next retreat. I wish you all the very best in your onward travels and time out for yourself to restore after a long stint helping putting so many people back together. Lots of Love
Michelle Davies, Sydney Australia - 25.11.2014
---
Testimonials Talalla winter 2013

Dearest Sandra,
This week has become more than I imagined. I came with a strong need to see myself in a healthier way and to focus away from the rush and "important" things I need to do. I fond I could treat myself to more acceptance and to trust you with my yoga practice, and I have learned very much. The tools I will bring with e include acceptance of myself and the minutes of life as they come to me. The beauty of this place and the generosity of you and the other people here helped me recognize that I do not need to isolate to protect my heart. God wants me to experience every person every bite of food, even fly, and everything on her Earth. I cannot thank you enough for the attention to me and the trust and hope for a more balanced life.
Love be with you (and Stryder)
Jill Kelley 10.11.13

Dearest Sandra,
It has been an AMAZING week...
The retreat is exactly what I needed ! In fact. I got more out of it than I expected. Your classes were structured very well and they were well planned and thought out. The classes were challenging on a physical and mental level. Before I came, I wasn't sure I could survive 1 week of 2 asana classes a day but now, at the end of the retreat, not only have I survived but I feel mentally, physically and emotionally stronger than ever ! You are an excellent teacher and a wonderful woman ! I'm so thankful to have met you and I hope our teacher-student relationship as well as our friendship continues to grow over the years!
This yoga retreat is really one of the best things I've ever given myself and I am so grateful to you for such a wonderful experience. You hae helped me to take my sadhana to another level ! And Meditation – wow, don't get me started on that ! I've already written too much ! :-) Thank you for sharing your knowledge. I have learned so much and will apply all that I have gained back home and incorporate it into my daily life. You are a real inspiration ! Merci beaucoup pour tout ce que tu m'as donne.
Har OM tat Sat. Namaste
Shehnaz
p.s. I dedicate all my Urdhva Danurasanas to you !
Talalla, 12 October 2013


I will always be very grateful for having the opportunity to come to Talalla and meet Sandra. I have
great respect for her not only as a teacher, but also for the kind and lovely human being she is.
Coming to her at a time when I was finding my practice (and progression) irregular and lacking, I
found her classes to be a huge source of comfort; they inspired and nourished me and rekindled
my love of yoga. Sandra has such a wonderful energy: her smile, laugh, voice and touch all radiate
warmth and compassion. Her classes are always diverse and challenging, while encouraging
students to be patient and non-judgemental, and most of all, to have fun and enjoy themselves.
There is no doubt that her knowledge and wisdom make her a talented teacher, but it is her loving,
gentle guidance and deeply uplifting spirit that make her exceptional. I am returning home with
deep gratitude for having met Sandra and experienced her beautiful yoga classes. Food for my
soul! Thank you Sandra. I will miss you!
Mandanna Daemi, 21 October 2013

Dear Sandra,
I have had a wonderful time here at Talalla. Thank you so so much for all your advise, guidance and kindness you have sharm me over the past week. It has really taught me to finely tune a lot of the asanas. The group were all lovely and I thoroughly enjoyed relaxing, chatting and getting to know new people and of course, most importantly, the Yoga ! I will return to London refreshed and energised !
Merci beaucoup Sandra pour cette (trop) petite semaine de yoga au paradis. Le resort est superbe, le cadre vraiment exceptionnel. j'ai beaucoup apprecie echanger avec toi lors des delicieux repas. la pratique elle-meme est tres interessante et permet d'approfondir des points cles (j'ai beaucoup aime les back bends), et aussi la structure des seances est tres pratique et je pense l'appliquer a ma pratique personnelle. Nous quittons la retraite bien avant la fin et c'est bien dommage ! Bonne continuation, bon courage, nous restons en contact et nous te donnons notre avis sur Ulpotha, ainsi que nos contacts de Kundalini. Tres chaleureusement,
Frederique Prevost, 8 November 2013

Chere Sandra,
Merci pour nous avoir fait partager ces moments exceptionnels dans un cadre excetionnel ! Meme si les 2 premiers jours furent "difficiles" la fin du sejour est deja la. L'expereince de meditation et les exercices de respiration etaient noueaux pour moi mais tres enrichissants. Je repars detendue et avec plein d'energie pour retrouver ma famille. J'ai adore les exercices d'etirement sur les sangles (super agreable pour le dos...) Je te souahite "tout de bon"" comme ils disent a Lausanne ou Geneve. Au plaisir de profiter de tes conseils lors d'une prochaine retraite... (qui sait...?) Bonne continuation,
Marie, 9 November 2013

Tout d'abord ravie de t'avoir rencontree et partage tous ces moments avec toi. J'ai apprecie cette retraite, meme si parfois ce fut difficile (surtout d'etre presente pour la meditation...) J'ai aime ta facon d'enseigner, l'energie qui en ressort et surtout ton experience. Apres ces quelques jours passes a Talalla, je me sens repossee. Bien dans ma tete et pleine d'energie, malgre les courbatures de mon corps peu flexible ! La seance de ce matin avec les
sangles et le Heand stand avec la chaise m'ont beaucoup plu. Beaucoup de challenge personnel mais avec de l'aide et de l'energie on y arrive ! Quelle satisfaction! Pour finir, un granc merci pour cette retraite de Yoga, bien organisee et dans un magnifique endroit. Je te souhaite le meilleur pour l'avenir et une bonne continuation dans l'univers du yoga.
Affectueusement, Elodie, 9 Novembre 2013

Dear Sandra,
Thank you for sharing your knowledge and wisdom on all things "Yoga" Your calm and gentle approach has enable me to be more comfortable and accepting of the meditative state and I have learnt so much more about the meditation and pranayama aspect of Yoga that I will continue to incorporate into my current practice. Once again, thank you for a wonderful and inspiring retreat and all the best in the future. Hope to see you again here or in India.
Karen Chohan Nov. 9th 2013

Sandra,
The Yoga has been fabulous. I have learnt so much in such a short period o time. You are quite an inspirational teacher and so readily approachable. Thank you for a wonderful week. Good luck with your Vipasana in India. Perhaps our paths will cross again someday.
Toni Lewis, November 2013

Dear Sandra,
Thanks for a wonderful week of yoga. It has pretty much been what I was after – a relaxing and yet challenging (physically) week of yoga. Talalla is a fabulous place for a retreat – love the animals and all the greenery and it is great to be able to be in the midst of all this whilst practising yoga... and smelling the see. You have a very calming voice – even the dog things so !
Once again thanks / merci beaucoup !
Annelise Bonnici 9 November 2013

Hello Sandra,
Je tenais a te remercier pour cette merveilleuse semaine. Tous mes objectifs initiaux ont ete atteints et au-dela, ma quiete "to be happy and free" a progresse de facon considerable et je compte l'immortaliser, ou du moins l'encrer/ancrer en moi :-) Apres plusieurs annees de pratique du Yoga, je sentais qu'il me manquait quelque chose, un element que je n'avais pas encore reussi a cerner, ... la meditation. En effet, la meditation a vraiment ete LA Revelation de cette semaine. Je ne pensais pas pouvoir le faire ni meme imaginer ce que cela pouvait m'apporter. Je saurai desormais quoi faire dans le metro :-) Tout cela pour te dire MERCI. Pour ce beau voyage, pour ta patience, ta connaissance, ton experience, toute cette belle inspiration que tu m'as donnee et que j'espere, nous continuerons d'echanger. Je garde en moi le secret espoir de pouvoir un jour enseigner et partager cette passion du YOGA! comme tu le fais. J'espere a tres bientot, somewhere en Asie ou en Europe.
Namaste. xoxo Benedicte, 9 November 2013
p.s. Merci de m'avoir prise en modele et de m'avoir mise a la place du prof :-)

Merci Sandra,
Tu as fait de ce sejour a Talalla un pur moment de relachement et de relaxation. Pour moi qui n'avais pas reellement fait de Yoga avant, je repars de cette magnifique retraite avec de solides bases et une connaissance de la pratique et de l'"esprit" yoga qui me sera utile pour continuer ce travail de mon corps et mon esprit a mon retour. J'avais pour but de retrouver un equilibre et une certaine quietude et cet objectif est pleinement rempli... reste a pouvoir le garder. Je sais que lors de mes prochaines seances ou meme lorsque j'en ressentirais le besoin, je repenserais tres souvent a nos seances, a tes conseils, a ton etat d'esprit, a toutes ces petites phrases/poemes que tu as pu nous dire/lire et qui permettront, lorsque necessaire de retrouver cet equilibre. J'aurais aussi appris ce qu'est rellement la meditation durant cette semaine, tres interessant egalement et lorsque je prendrais 10/15mn pour oublier tout ce qui m'entoure je suis sure que je finirais avec une grande pensee pour toi. Mille merci !!
Juliette Nevers Dimanche 10 Novembre 2013

Dear Sandra,
Thank you for a wonderful week ! It has been a time in which all my senses and muscles have been heightened ! The yoga and meditation sessions have stretched my mind and body and given me inspiration to continue when I return home. On top of all that the surroundings are lush and beautiful creating the perfect setting ihtin which to practise. Thank you for all your patience, guidance and enth usiasm, you truly live the lifestyle you promote.
Sarah Algate, 10 November 2013

Dear Sandra,
Thank you so much for your classes. Not having done formal classes for quite some time, I always found your classes challenging. Your quiet confidence, clear explanation of Asanas and breathing and your gentle encouragement made the exercises worthwhile. And what a setting ! The grounds, the crashing of surf in the background, both of the yoga pavilions are all simply splendid. not forgetting the chorus line of squirrels behind you and the soundtrack of the bakers van, birch, dogs and squirrels only adding to the experience.
Once again, thank you. Simon Martin 5/12/2013


To Lovely Sandra,
Just a little note to say thank you for helping to make my stay at Talalla so special. Your classes have been wonderful - your calmness, serenity and sense of humour are inspiring – so is your bendy-ness !
I really hope we meet again. Lots of Love
Emma xxxx Dec. 2013

Hello Sandra,
We have been enjoying your classes sooo much. I know, I shouldn't but I feel sad that our treatment with you is heading to the end. We've learned a lot, indeed. Especially, me-Alena, because fan of Iyengar yoga. I found it very useful and these helpful thing as blocks, stripes, cushions, even the wall and chair.
You are doing really good/excellent job. We like all your explanations and your effort to adjust us if we did something wrong. Now, the rest is on us... practise, practise, practise :-)
Thank you very much. I just wish you teach yoga nearby us, so we could attend your classes regularly. Thank you,
Alena + BK, 7/12/2013

Dear Sandra,
Talalla and your yoga retreat will definitely be in the highlights of 2013 !
No matter how much one practices and no matter how much one reads/studies, there is always more room to grow and more knowledge to be added. In other words "you learn something new every day". And for this I thank you. Your openness, sharing, neutrality and free spirit made this retreat rather special. I also would like to mention that I enjoyed practising with our group.
People is really what makes a place memorable. And I am grateful, thankfull and very happy that I am taking with me not just a stretch out body, a soothed soul but also a few new friends.
:-) until we meet again !
xoxo Alexandra 8/12/2013

In the Beginning...
I am in awe of the human body. Having read and heard of all the possibilities did not prepare me for this experience.
Dear Sandra,
This is my thank you note.
Thank you for stretching my body to the outer limits,
Thank you for building my strength in my muscles.
Thank you for the air & energy that flowed through my channels.
Thank you for the quiet & peace so needed in my mind.
Thank you for the control that comes with so many tires.
Thank you for never giving up on me.
Thank you for pushing me when I needed to give more.
Thank you for holding back when my body cried.
Thank you for your faith and positive energy.
Thank you for opening my eyes and my sould to the universe.
This is my beginning and I am looking forward to seeing you again when it is right.
Have a good stay and all the best in your journey.
With all my Love.
Njeri 8/12/2013 Namaste


I very much enjoyed my time at Talalla & learnt a lot from the retreat (I just hope I can remember it all!) What I enjoyed the most was all the stretching & sun salutations. I also liked how every class we worked on something different. I was very uneasy at first about doing the headstand as I've had a bad experience with it in the past, but I'm happy to say I did it & now thanks to you will be more confident when trying again. When it came to the meditation my favourite one & the one I'd like to do more of is the Yoga Nidra. I thing the guided meditation was very peaceful & maybe you could use that more if others also like it. Only other suggestion would be that perhaps in the morning class when there's not so many people we could face the pool & beautiful scenery. Would make the sun salutations even more enjoyable. :-)
Wishing you all the best.
Ashley, 7/12/2013

This is my first yoga retreat and I really enjoyed it. I have done stretches of yoga in the past and was unsure if I would get bored doing 2 to 4 sessions a day. I wasn't, every class was new and interesting and my meditation ability actually improved for the first time in my life.
The yoga philosophy was even interesting (for a while :-) and all in all I think this will be the first of many retreats. Thank you,
Andrew, 7/12/2013
---
Feedback of Yoga retreats 2012

Dear Sandra,
Thank you for a stunning week of yoga. It has been a while since I practiced everyday but your wonderful instruction ensured that I enjoyed a really fulfilling practise. Thank you especially for developing a tailor made practise for my whole family. I know this was a challenge… a 2 + 4 year old was ambitious !! they really loved it, so thank you. I will look forward to returning to enjoy a retreat and a few more laughs.
Kind Regards,
Rebecca Geer, October 2012

Dear Sandra,
Thank you very much for past few days when I learnt so much. I have been practicing yoga for few years, yet thank to you I have found new areas to work on and your lessons also taught me things I have been doing wrong for so long . You also told some great yoga tips and mainly about roots of yoga which enlightened my attitude to life and people, although especially myself! Thanks to rediscovering meditation. I've realized how beneficial, nurturing, relaxing and spiritual it can be. I am still looking forward to some classes here however I can say already thank to you, Sandra, yoga retreat was just what I expected and what I needed. Hopefully I will have another chance to attend some classes with you around the world.
Wishing you all the best
Zusana, Yoga retreat 24th October 2012

Sandra Namaste
It has been such a pleasure to get to know you both as a yoga, meditation & pranayama instructor and a little bit as a person. Your kind gentle approach has been new and very much enjoyed throughout the yoga retreat. I will take many valuable lessons from you from this short time together. You have taught me about silence, the importance and benefits of sitting still and focusing inwards. I will leave here with an intention to increase my level of focus and dedicate more time towards quieting my mind, sitting still and breathing. I have also enjoyed your practice and teaching of holding the poses for longer periods than I am used to with my ashtanga flow practice. I have learned many ideas for teaching beginners about the use of props, walls and people and about breaking down poses to simplest form. Than you. Merci Beaucoup pour tout que vous avez emporte a moi.
Amanda Williamson, Yoga retreat, 10 November 2012

Dear Sandra,
Thank you so much for a wonderful retreat. I feel I have learnt so much in a short space of time. You have been amazing with us as beginners and have helped us so much to have such a great experience. Your calm manner is inspiring and the knowledge you have is fantastic. Your lessons have always been fun and I know we have all had such a good time learning new things and challenging our bodies and minds. I will take a lot away from this experience and thank you again for such a great time. I hope we can visit you again some time.
Best wishes
Lydia, Yoga retreat, 10 November 2012

Dear Sandra,
Thank you for making this yoga retreat so fun at the same time as being so interesting. This week has helped me understand what yoga is really about and I feel I have learnt so much which will help to keep me motivated and focused to continue when I get back to my day to day life. Thank you also for helping (together with the masseuse) to sort out my shoulders this week, I think they may just about be touching the floor now when I lay down ! I will be trying to keep them that way in the future. I hope to visit Talalla again some time in the near future and hopefully my yoga will have
improved once again by then. Best wishes.
Jo x, Yoga retreat, 10 November 2012

Dear Sandra,
I arrived here as a complete stranger or more likely a newborn baby, who is just about to take the "yoga world". And indeed, I did learn from the beginning how to breathe, stand straight, walk and of course stand on my head. My body and my mind experienced feeling through, until now unknown words, such as relaxation and meditation ! Only because of you, your mind, genuine and supportive introduction and guidance I feel motivated and inspired again. Therefore THANK YOU for being here for us, who are still discovering this beautiful and empowering world of yoga. Looking forward seeing you around the world again soon. Wishing you all the best
Ivana, Yoga retreat, 25th November 2012

Dear Sandra,
It was an amazing week of yoga practice with you. Thanks for this wonderful teaching provided with such generosity and patience to all students whatever level. Your lessons were very precious to go deeper in the yoga practice with being gentle with myself. The breathing lessons also were so nicely explained and brought more consciousness in my yoga practice. Thanks to you Sandra, I understood more deeply how yoga is so essential to our lives, connecting body, mind and soul. I will never forget this week and the beautiful soul that you are. A million thanks and hope to be able to come again to a yoga week with you.
Xoxo Sofia, 30 November 2012
---
Feedback of Yoga retreats 2011

Dear Sandra,
Thank you so much for a wonderful week of yoga. I haven't practiced for a long while and already feel a lot stronger, refreshed and energised. Thanks for helping me overcome my fears over inversions ! I have always avoided these but am now confident to keep doing them. I will miss the classes when I leave ! All the very best.
Charlotte x, Talalla retreat, Sri Lanka
---

Dear Sandra, I have learnt a lot more about yoga this week in our classes with you. The week has helped to open and lengthen my body – especially my back which was in bad shape on arrival ! I have also learned how much further I have to go. Imagine if I only did yoga once a week?
Nothing would happen I will follow up your recommendations in Bali and stay in the yoga path in Australia. Thank you for both pushing me and respecting my limits. You are gently strong & kind. I look forward to the next time we meet wherever that may be. Best wishes
Louise, 7 November 2011, Talalla retreat, Sri Lanka
---

Dear Sandra, Thanks for an amazing yoga retreat ! It was just what I needed. Thanks for your soothing voice and confidence in us to perform quite challenging asanas, that I didn't think, I could do ! Well done for trying to make me sit for so long. All the best for the future and may our paths cross again.
Namaste
Caroline Coetzee – 21.10.11