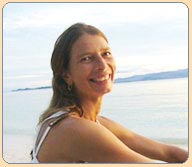 I am French Swiss, fluent in English and have lived in Asia for most of the last 25 years.
My spiritual journey started in 1989 when I first met the Dalai Lama and for a period of 6 years I had the privilege to study Buddhist philosophy and be taught meditation by renowned Tibetan Lamas in Dharamsala, and Bodhgaya in India as well as Nepal. I had the good fortune to attend powerful initiations from highly realized Tantric Masters like H.H. the Dalai Lama and Ven. Kyabje Zopa Rinpoche, Ven. Kirti Tsechap Rinpoche, Ven.Denma Locho Rinpoche, Ven. Rilbur Rinpoche.
In 2008 I met and joined the Open Dharma family which has a very supportive influence on my spiritual journey, I am deeply appreciative of the limitless Love and Warmth of the Heart of Jaya Ashmore and Ajay Pal Singh.
In 2014 I met with Shanti Mark R. Koppikar and his kind welcoming sangha, I am grateful for his powerful influence and the life changing experience in his presence.
I came back to Yoga in 1999 through an intensive private teacher training in Varanasi, India which inspired me to a regular daily practice. This was deepened by spending several months in the Sivananda Yoga ashrams at Uttarkashi and Neyyar Dam where I undertook a second teacher training.
I also had extended periods of study and practice with lifetime experienced Iyengar teachers (in India with Sharat Arora, with Olop Arpipi in Bali, with Christine Monnet in Switzerland) which opened me to a new dimension and understanding of Yoga for which I am very grateful. I am also deeply thankful to Emil Wendel for his profound and knowledgeable teachings on Pranayama and Philosophy and Asana. My practice and teachings have been powerfully inspired by Sharon Gannon and David Life from the Jivamukti. To all my precious teachers without whom I wouldn't be the teacher I am today I pay respectful homage : tasmai shri Gurave namah..
My training in Thai Massage in 1999 in Chiang Mai north Thailand and the regular practice of it are very valuable and supportive skills in my teaching of yoga, providing a subtle sensitivity and understanding of each student's unique anatomy.
The Yoga method I practice and am developing for more than ten years is inspired by the great Masters BKS Iyengar and Sivananda, which I nourish with heart and awareness. It allows the students to maintain a meditative yet relaxed spirit while focussing on precision and alignment. It is suitable for both advanced students and beginners and incorporates therapeutic poses to explore everyone's own potential more deeply in a fun yet safe environment.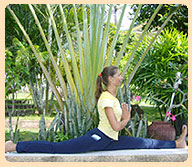 Allowing the movement of the body while keeping the stillness of the mind, one is then directed to follow one's breath into Vinyasa flow.
As a travelling instructor, I had the chance to be teaching in a variety of locations. Since 1999, I offer classes from January till end of March in Goa, south India. March 2006 till 2010, I guided soft Yoga practices to fasting groups doing 7 to 14 days detox in Mandrem, north Goa. From 2004 I have been teaching during the summer at the Yoga Studio in Chiang Mai and I also offered private classes on request at the 4 Seasons in Chiang Mai. In the summer of 2008 I taught for 6 months at ChivaSom, Thailand's premier health resort. In spring and autumn 2009 I taught yoga students for weekly retreat at Basunti, Himachal Pradesh, India, while in summer 2009 I offered several workshops in Switzerland. Summer and Autumn 2009 and 2010 I have been back teaching regular classes, intensives and workshops and Yoga Flow at the Yoga Studio Chiang Mai. November 2010 I offered workshops at Yoga Barn and regular classes at Bali Yoga Studio in Ubud, Bali. In December 2010 I had the privilege to offer two daily classes at Talalla retreat in Sri Lanka and early Spring 2011 called me back in Goa where regular morning classes took places, including a Women Yoga workshop at Brahmani.
June 2011 I offered workshops in Zurich and Geneva, Swiss and in July I have been teaching TTC level 1 in Kuala Lumpur Malaysia with Dance Yoga Studio. August brought me back to Chiang Mai where several workshops and classes happened at Wild Rose. From beginning of October till end December I have been offering 2 daily Yoga classes, 2 monthly Yoga retreats and private Yoga classes and Private Meditation classes at Talalla retreat, Sri Lanka.
2012 has welcome me in Bali, where I taught workshops at the Yoga Barn in Ubud, in Kuala Lumpur again, for 2 batches of TTC, one in March-April and another in July-August, beside the TTC 1 and 2 I have been offering workshops and Immersion classes at Dance Yoga again. From beginning of October till end of December, I came back to Talalla my home in Sri Lanka where I teach 2 daily Yoga classes and 2 monthly Yoga retreats and I also offer private Yoga and Meditation session. In
2013 I will offer workshops at Yoga Barn again in June, in Switzerland in July and will be back at Talalla Sri Lanka from October till end of the year for more Yoga retreats, daily Asana and pranayam classes and more...
2014 has been a time of deep introspection for me, with extended periods of time in solitary silent retreat, with the guidance of my dearest teacher Ajay Pal Singh.
2015 I will offer a Yoga retreat in Rishikesh in March, with Roshan Palat, and planning 2-3 Yoga retreats in Madukelle in north Sri Lanka, then I will be back at Talalla for the October till end of December period, teaching 2 daily classes and one week Yoga retreat every month.
Please have a look at my schedule under Yoga classes.