Feedbacks from SPA Koh Chang Guests July and August 2019

Dear Sandra,
It has been an absolute pleasure to have such a wise, experienced and talented Yoga
teacher. I adore your smile, your patience in order to help me overcome the obstacles. It was a real pleasure and I hope we meet soon again in a great place.
P.s. I will certainly continue this voyage in Yoga, after this amazing introduction.
Ines Daelman, Barcelona.
July 2019

Dearest Tara,
Thank you so much for your wonderful Yoga classes, which I found to be nurturing and
healing. You successfully and generously adapted your teaching to my level, yet showed me
that my level was a little more advanced than I thought it was when you had me stand on my
head !
I left the week of classes with more confidence, more mental clarity, and more curious as to
what other strengths and skills I would have discovered if I could have continued. Thank you
for your teaching and healing.
Namaste
Michael, August 2019

Chère Sandra,
La retraite n'est pas encore finie mais j'en ressens déjà les bienfaits.
Je voudrais te remercier pour cette semaine, merci pour ta patience, tes conseils et ton
professionnalisme. Grâce à toi j'ai pu comprendre ce qu'était vraiment le Yoga, améliorer
mes postures et entrer dans la méditation. Je trouve que tu es un excellent professeur car
évidemment tu as la connaisance mais tu sais surtout t'adapter aux besoins de tes élèves.
Merci encore et je te souhaite le meilleur pour l'avenir.
A bientot, j'espère !
Isabelle. Koh Chang August 2019
---
Reference Letter from COMO Shambala, Maalifushi, Maldives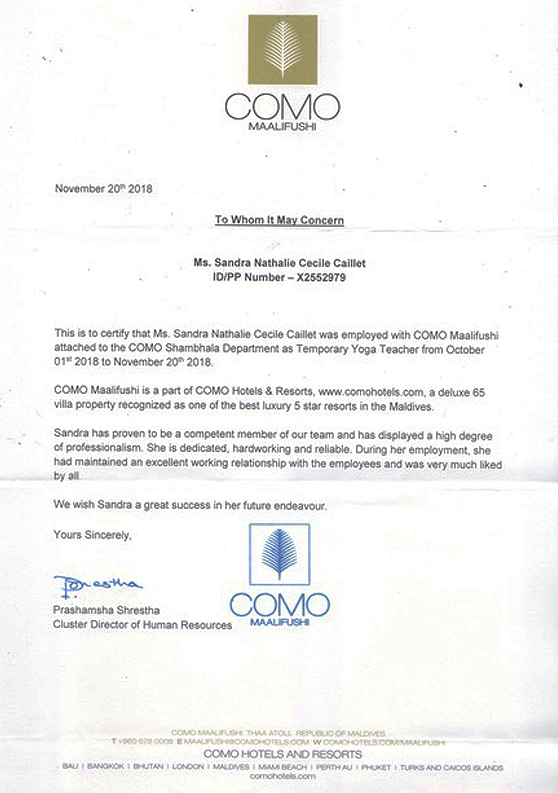 Testimonials ANANTARA Peace Haven, Tangalle, Sri Lanka 2018

Dear Tara,
You are truly an amazing teacher. I had not expected to meet someone of your calibre on a
holiday. I have really enjoyed our one to one sessions and also the group lessons. If is clear
to me that your knowledge and skills run deep. I feel I have achieve more than I ever thought
I would and also in such a short space of time.
I am very grateful that our paths have crossed and I thank you for sharing your knowledge
with me. I hope to have the pleasure to meet you again some day. Good luck with your future endeavour.
Sunita Hern (U.K.) Anantara, Sri Lanka, August 2018

Dear Tara,
Thank you so much for the wonderful workshop. Your profound knowledge guided me
through some new breathing techniques, which were great to experience. I promised myself
to take this home for my daily life. Your smile and positive attitude enhance my confidence while practising the Asanas. My whole body felt so much better after our practise. Thank you.
Good luck for your ongoing journey.
Ariane Anantara, Sri Lanka, August 2018

Thank you for your welcoming smile and beautiful presence as you guided me through a week at Anantara Peace Haven. Your knowledge and calming energy was so nurturing to be a part of and I feel very blessed. How wonderful to go to such a magnificent resort and have the gift of your classes and workshops. I was particularly impressed with the attention to details within the class and the level of professionalism.
I have been able to reconnect with myself and my love for Yoga and re-energise. Such an inspiration. Thank you, with gratitude. xxx
Deborah Lay

Dear Sandra,
Thank you so much for the wonderful workshop and classes I have attended this week. It was a wonderful surprise to arrive at the resort and find so many Yoga and Meditation classes were available. And to be taught by a truly knowledgeable experienced passionate and inspiring teacher too. I have thrown myself into practise this week and hope to maintain the good habit when I return to normality, and hopefully make those changes to achieve a more balanced life ! Your teaching style is calm, encouraging, gentle, kind and very inducive. A must for getting the best out of students and great for first timers (as I was to meditation).
It has only been a few days but I already feel my knowledge and understanding of Yoga and meditation has improved. I loved learning about Pranayama breathing and feeling the benefits and challenging myself with poses I have not held since I was a child ! I have often thought about doing a Yoga retreat but have never quite had the courage, so this week has been the perfect taster. I will look out at your future retreats as now I feel this could be just the tonic for our busy, busy lives ! With best wishes.
Thank you :-) Jo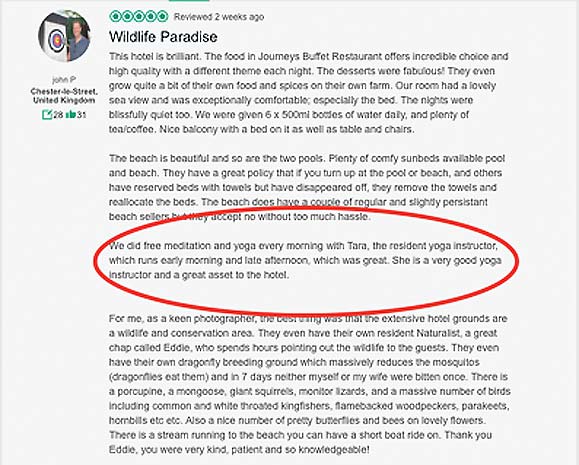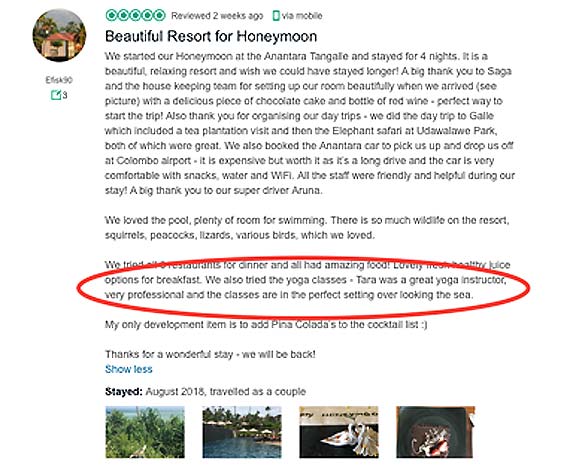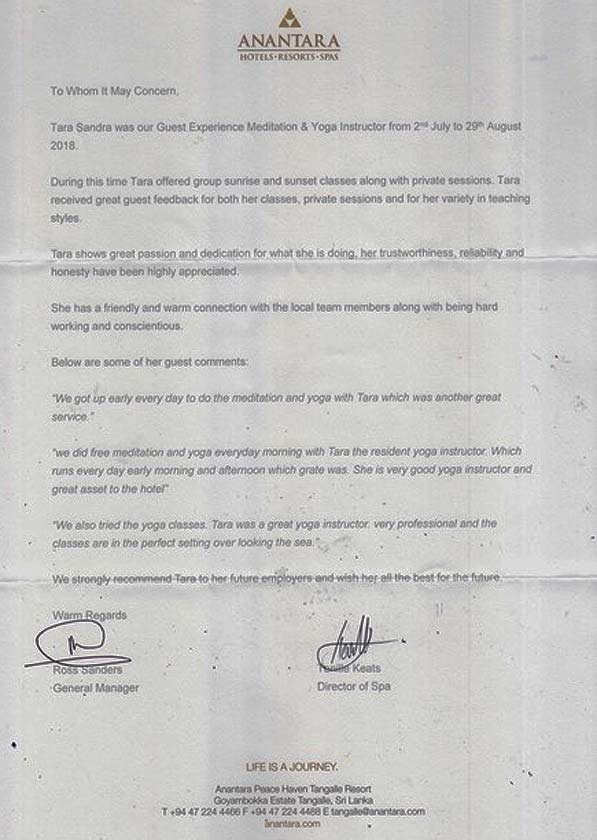 ---
Testimonials SPA Koh Chang Summer 2016
Dear Sandra,
I cannot thank you enough for the wonderful week we spent together in Ko Chang. What a beautiful place! Words cannot express how lucky I feel that I met you, it was a very special week for both me and my mum. Your calmness and beauty inspired me so much. From today on I will keep going with my practice, knowing that you are doing yours on the other side of the world! There is so much to explore, both physically and mentally.
Astri Hofmann-Tollaas, from Norway, October 2016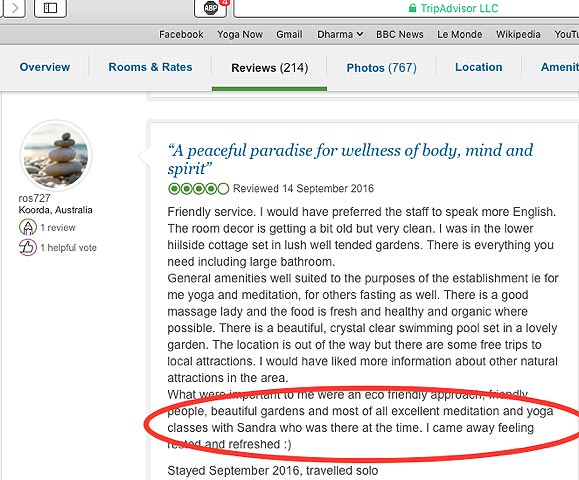 ---
Testimonials Talalla Winter 2015
Talalla retreat, reference letter :
We higlhy appreciate Sandra's work commitment, her life dedication to Yoga aspiration….
Sandra proved herself as an inspiring, very knowledgeable and experienced Yoga teacher both on
the physical and spiritual aspect of Yoga. Sha has been deeply appreciated also as she is pleasant
to work with, being a hard working and reliable and conscientious person... read full letter (in PDF)
---

Sandra,
I cannot begin to thank you for the most rejuvinating week you have blessed me with.
I am leaving this retreat so hugely grateful to have met you and honestly feel
privileged to learn from you. Your experience and knowledge of Yoga is extraordinary and I am so excited to take home everything I have learnt and practise daily. You are very special and your energy is inspiring. Many many thank you's forever grateful
Meg Cousins, Australia Oct. 15 Talalla

Sandra,
Many, many thanks for your thoughtful insightful, challenging and most of all fun
retreat this week you have taken my understanding of Yoga beyond Asanas and have
had some challenging philosophic discussions. You are humble, yet vastly knowledgeable and guide the class in an easy manner that allows students to explore and discover at their own pace - a true teacher !
Many thanks yet again. This is the first retreat I've done and I honstly enjoyed it. I
hope to meet again someday.
Kath Hawkey - Australia Oct. 15 Talalla

Sandra.
Many thanks for everything that you have taught me during this week. I am taking
home so many things that I will try to incorporate in my daily life.
I hope that you have also enjoyed the experience of this retreat. Hope that you can go
a little further every day in this path that you have chosen and that you nerve give up.
I am totally convinced that we will meet again sometime, somewhere (if possible in a
place with less "nature" in our bathrooms).
Betty, Portugal Oct. 15 Talalla retreat

Thank you so so much for two of the best weeks of my life. I really loved doing yoga in your classes. You inspires me in so many ways. And I am grateful that you use me to do so many of your demos I will never forget this practise and experience. I feel that you made me in touch with my breath and connect with my inside and my outside.
And more what Yoga really is ♥
My flexibility and my strength has come to much further and my body begins to correct itself back. Thank you so much !! :-)
I really love your energy, fascinates me with the way you think and live your life. And I love your personality !♥
Hope I can enjoy this in a another country. Forever grateful, your Norwegian friend.
Lene Oct/Nov. 2015

Dear Sandra,
Thank you so so much for making my first Yoga experience such a pleasant one and for making it about much more than yoga ! I've learned so much and I'll never forget this retreat. Thanks for being patient with my complete inflexibility, silly faces during poses and my laughter when I couldn't get things right. When I signed up for this, I was afraid that I would feel intimidated at my lack of experience but you were so encouraging and never condescending or impatient. Your classes area really brilliant and I can only hope that my next teacher is as interesting , fun and educated as you have been.
I'm so glad that I got to Talalla in time to experience your classes before you leave. Thank you.
Hannah Quinn, Ireland November 2015

Dear Sandra,
Than you so, so, so much for an amazing week of yoga, meditation, energy, tears and laughter.
Talalla is a beautiful location and I am so happy that I have been able to meet you and practice here. I was nervous to travel alone but after this experience I am already thinking about my next solo trip. Hopefully next time I will be a little less "scared of everything"!
Your teaching style is really inspiring and has encouraged me to try postures I wouldn't have done before - "Simple & easy" :-)
I also loved learning about meditation and this is something I will continue when I go back to London. Your kind and gentle nature has made me feel comfortable to share emotions and thoughts with the group without fear of being judged.
This aspect of the retreat wasn't what I expected but in a way has been more important than perfecting my downward dog.
As well as the "deeper" moments we have had some great laughs over meals at the Yoga table and I hope to stay in touch with you, Danni, Hannah and Olivier.
I never felt stupid asking questions (or trying to!) and feel like I can find answers more easily myself now - I just always need to carry a coin. :-)
Thank you again for your guidance, patience and for listening to y ramblings. This is only the start but this week has helped me so much to discover more about myself and how to be HAPPY AND FREE !!!
Take care ♥) Deb (London and New Zealand) x

This week gave my mind, body + soul everything it needed and more, what I have gained is what I was looking for and is the reason I quit my job to come and do this. You are a true inspiration, there is so much beauty in the way that you see the world but also how you are open with your own self doubts and thoughts which made it so much easier to open up with you and relate. I have learnt so much - being in the present moment is so important to me now. I was very often in the past or caught up on my expectations of the future and you have shown me how to stay in the now. After a great deal of loss + hurt this year, I learnt that love does not go away, that it stays with us. I had a moment on the beach on Diwali day that cannot be described in words but something in me shifted and a lot of things became more clear to me.
Physically - Wow ! I already feel so much stronger and was able to do things I did not think my body was ready for. I feel more motivated than ever to continue my practice and truly hope I can meet you for another retreat in the not to distant future.You are an amazing teacher, a friend and an inspiration. I will carry this week with me forever and I cannot thank you enough for that. I hope that you next adventure after Talalla is all that you could ask for and more and that you can continue to touch hearts the same way that you have touched mine.
♥ Danni xxx Australia 13 Nov. 2015

"Debutant, je n'avais qu'une connaissance approximative du Yoga. Je voulais prendre soin de moi cette semaine, a cote d'actualites professionnelles exigeantes et personnelles compliquees. Cette retraite a ete un veritable cadeau : nourrissant mon corps, mon coeur et mon esprit. Sandra a une presence qui sait combiner douceur et exigence, simplicite et profondeur. Elle a ete d'un grand soutien sur le tapis et aussi sur des questions generales de la vie. Merci "
Je te souhaite une tres belle saison a Talalla. Puisse-t-elle continuer a faire grandir tout ce que tu as de beau a offrir au monde. Que 2015 se termine dans la confiance, la paix, l'amour et la joie pour toi et ceux qui te sont precieux.
Tendrement & Sincerement
Olivier Maurel , 13 Nov. 2015

Dear Sandra,
Thank you very much for the whole week. I've really enjoyed that very much. I'm glad to meet such a nice person as you're. I'm also very glad that I could get the lessons from someone who lives the yoga life in real.
Now I feel a little bit further steps into yoga as it really is.
I hope we keep in touch. And if you feel like sometimes we'll arrange your visit to Prague (Czech). That will be nice and I'll be pleased having you there for the workshops and lessons.This week will definitely stay in my mind forever.And also helps me a lot in my teaching practice, not only in my personal one.
Take care and enjoy the way of life you've chosen. ☼
Petra Polivkova
Czech Republic, 10.12.2015 Talalla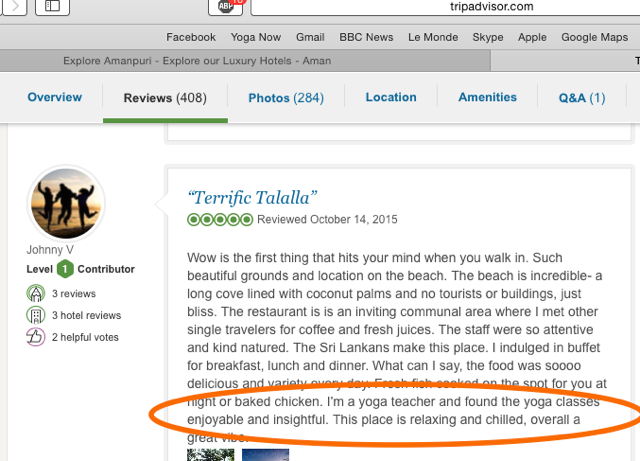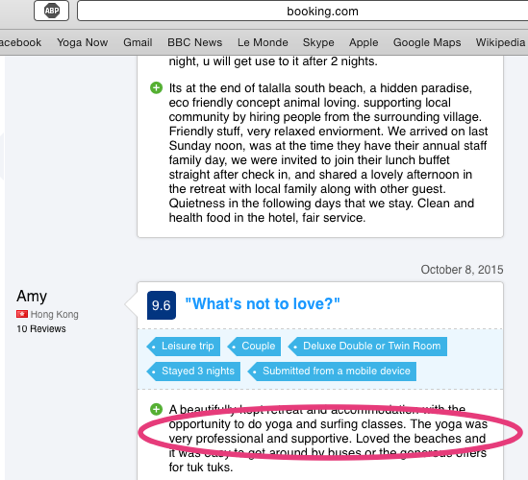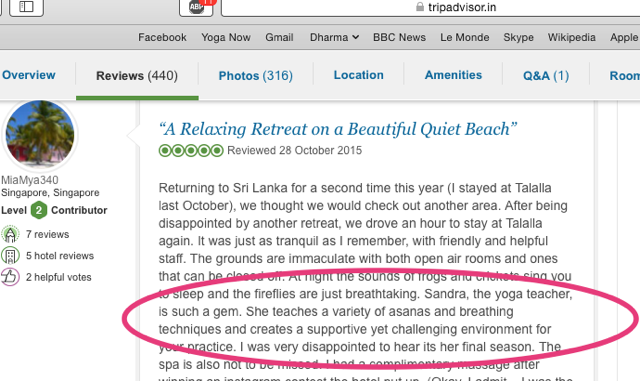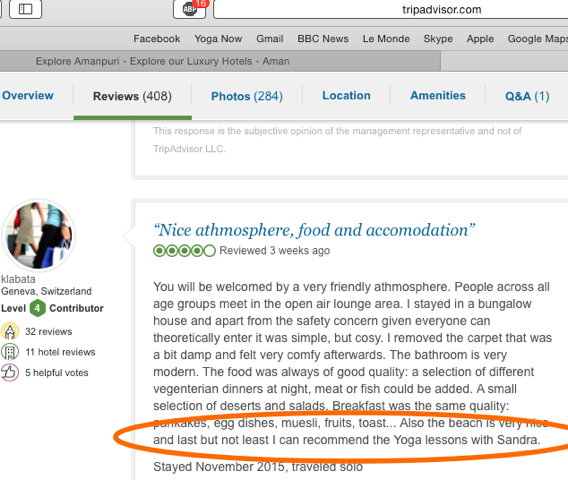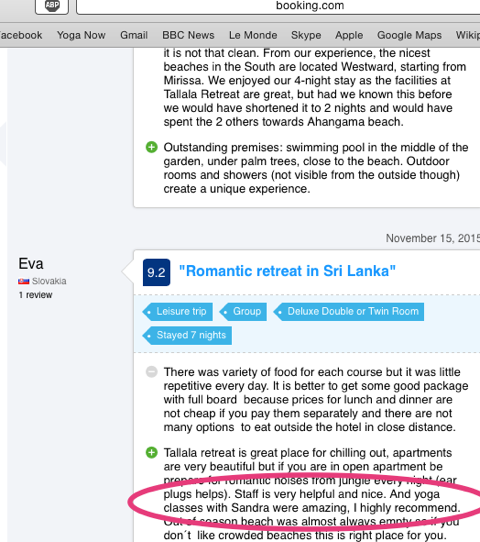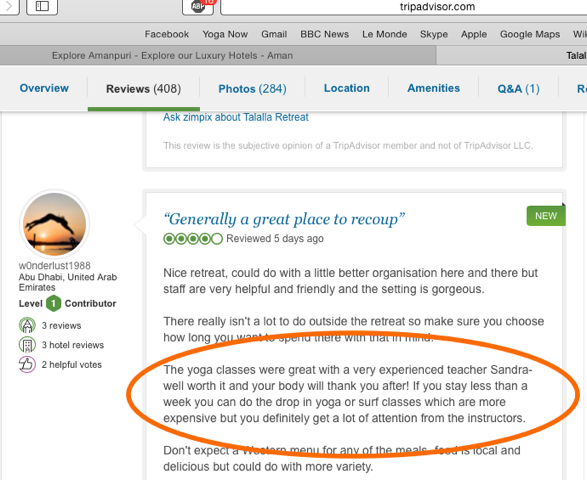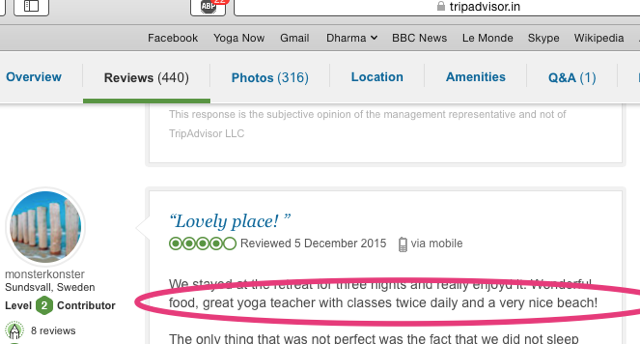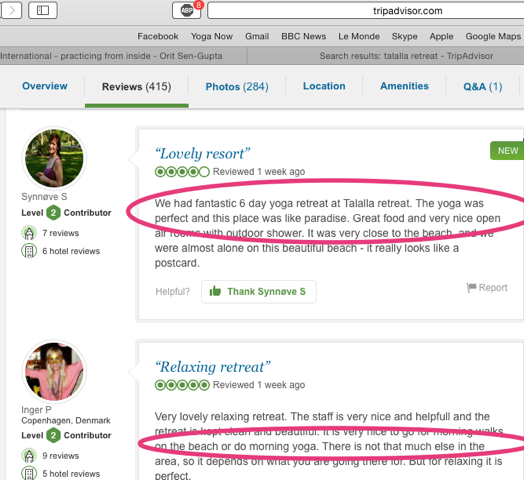 ---
Testimonials Talalla winter 2014

I just wanted to thank you again for your inspiring, relaxing and fun yoga classes at
Talalla last week :-) I really enjoyed my stay and your classes were a great help to
me in letting go and reaching a calmer mind by the end of my week - I am already
missing my twice daily yoga "refresher" and thinking of ways that i might incorporate
even just some meditation and breathing exercises in the morning before work, I was
really amazed by how peaceful a daily practice left me feeling and want it to continue.
Andrea Cartwright, 12 October 2014

Sandra,
Firstly thanks for being so patient, and secondly making me feel a part of the retreat
experience despite being a complete beginner. We really appreciated the approach taken and feel the lessons learnt in your classes provide us with a solid base on which to further our knowledge and practice of yoga. Thanks again for the enriching experience during our time together.
Mark & Mila - October, 16, 2014

Dear Sandra,
We can't thank you enough to the complete "yoga" experience. Our practice has come so far in such a small amount of time, we both feel so much stronger and balanced. It has been such a pleasure getting to know you and hearing your incredible stories. Sharing meal times together have helped us feel very supported as we were able to reflect on our meditation, pranayama and asana experiences (sorry of there are any spelling mistakes). We will be very sad to say goodbye to you tomorrow and hope to see you again in the not too distant future.
Much Love, Luca and Jess - October 16th, 2014

Dear Sandra.
Thanks for allowing me to (and encouraging me to!) join the retreat at the last moment. It has been a great chance to test my boundaries and to learn some new practice, which I hope to find a lace for In my daily life. I just cam back from my run on the beach and did some asanas Ji
The location is amazing and the retreat has been challenging and fun. Hope to see you again and will keep you updated.
Catherine - October 17th, 2014

Our beloved Sandra Ji
We are very grateful to be on your retreat for the second time. You and your teaching still have met our expectations and maybe in some way they also overcome our expectations. Once again, we've deepen our practice with you. You've taught us many, many new techniques either in asana practice, either in pranayama & meditation and of course in the yoga theory.
We love your yoga classes, their structure and the idea to focus on few asanas, so we learn step by step how to hold the proper posture. And of course we had lots of fun. And we have also found new friends. That was a very pleasant week, we enjoyed your spirit and love your sense of humour, your openness and you as a person. We also appreciate the temple visit which is new to the retreat since this year. Looking forward to practice with you again.
Alena & Branskislav, 5 Nov. 2014

Dear Sandra,
It has been a fantastic retreat with you this week. Thank you so much for encouraging me to join this week. My practice has definitely improved & I appreciate the focus on the postures & not only getting them right but feeling & understanding the correct posture. I believe that my objective of deepening my practice has definitely occurred & for the first time (in 4 years of practicing yoga) I feel confident I will do solo practice frequently. I have also really enjoyed getting to know you. Thank you for our openness, patience & loving spirit. I feel stronger & happier.. so thank you for your valued input to this ! Rarely do I return to places but I already know I'll be back to Talalla to come to your retreat. Thank you.
Clare, 6 Nov. 2014

Dear Sandra
I have had such a happy week, thank you. Reading all of the testimonials on your website before I came, I had very high expectations and they were more than surpassed. Our have a wonderful, gentle, intuitive style, helping us all to grow and challenge ourselves, just enough, o matter how experienced we are at yoga. Thank you. The retreat has gone by so fast and yet I feel like I have been on holidays such a long time. I am very refreshed. Thank you also for being so welcoming outside of the yoga class, having a "yoga table" at all the meals built a great sense of friendship and community amongst the"retreaters" especially the solo travellers. I hope to practice again with you one day.
Rosie / Australia, 6.11.2014

Chere Sandra,
Une des raisons de mon sejour (12 jours) a Talalla Retreat etait la possibilite d'une pratique reguliere du Yoga. En tant que debutante, j'ai beaucoup aime la qualite de ton enseignement tres progressif et de tes explications des postures. Ton attention et ta tolerance des difficultes de chacun(e)s etaient tes appreciables et encourageants.
Je regrette de ne pas avoir pu profiter d'avantage de la connaissance du Pranayama et des technique de Meditation, n'ayant pu etre la au moment d'une session de retraite. En tous cas cette initation intensive m'a bien convaincue de poursuivre cette pratique a mon retour en France. D'autre part je suis tres contente d'avoir pu faire ta connaissance et discute de divers sujets non specifiquement yoguistique, et j'espere que nos chemins se croiseront an ouveau un jour. Je te shouahtie une bonne continuation sur ton chemin spirituel et dans ta vie.
Marie 17.11.2014

Dear Sandra,
- I love when you make us hold it just a liiitle bit longer
- I love that you are practising yoga and not just teaching yoga
- I love your french accent in the yoga shala
- I love that you make us inhale and exhale
- I love that you are not taking it all too seriously
- I love that you care about our alignment
- I love that your heart is open.
Thank you, thank you, thank you
Stine, 18.11.2014

Dear Sandra
Thank you for such a beautiful week at Talalla. Waking up to yoga and feeling so energized after every session with you was truly a highlight to my trip. I appreciate your method of teaching, gentle in spirit but pushing each one of us to reach our potential and assisting us to connect with ourselves and our bodies. I feel after 1 week that I am on a new path and one which is more aligned to who i really am.
I can see this is just the beginning of a long journey ahead but this week has helped to awaken my spiritual side which has laid quite dormant for some time now. I will miss your gentle smile in the morning but what is exciting is that I hope to meet you again in India on your next retreat. I wish you all the very best in your onward travels and time out for yourself to restore after a long stint helping putting so many people back together. Lots of Love
Michelle Davies, Sydney Australia - 25.11.2014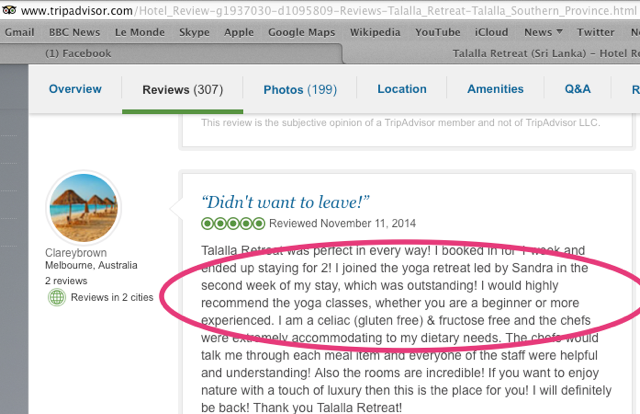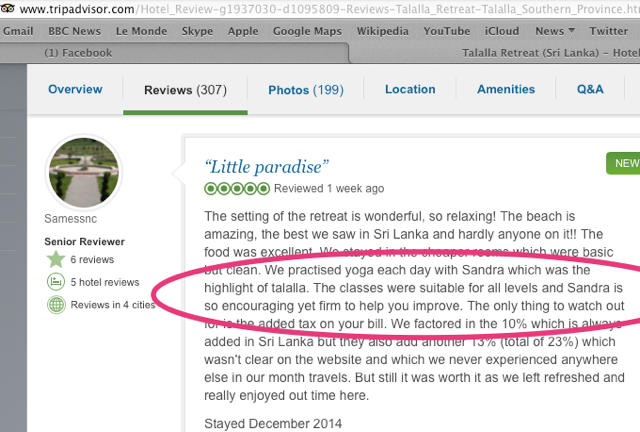 ---
Testimonials Talalla winter 2013

Dearest Sandra,
This week has become more than I imagined. I came with a strong need to see myself in a healthier way and to focus away from the rush and "important" things I need to do. I fond I could treat myself to more acceptance and to trust you with my yoga practice, and I have learned very much. The tools I will bring with e include acceptance of myself and the minutes of life as they come to me. The beauty of this place and the generosity of you and the other people here helped me recognize that I do not need to isolate to protect my heart. God wants me to experience every person every bite of food, even fly, and everything on her Earth. I cannot thank you enough for the attention to me and the trust and hope for a more balanced life.
Love be with you (and Stryder)
Jill Kelley 10.11.13

Dearest Sandra,
It has been an AMAZING week...
The retreat is exactly what I needed ! In fact. I got more out of it than I expected. Your classes were structured very well and they were well planned and thought out. The classes were challenging on a physical and mental level. Before I came, I wasn't sure I could survive 1 week of 2 asana classes a day but now, at the end of the retreat, not only have I survived but I feel mentally, physically and emotionally stronger than ever ! You are an excellent teacher and a wonderful woman ! I'm so thankful to have met you and I hope our teacher-student relationship as well as our friendship continues to grow over the years!
This yoga retreat is really one of the best things I've ever given myself and I am so grateful to you for such a wonderful experience. You hae helped me to take my sadhana to another level ! And Meditation – wow, don't get me started on that ! I've already written too much ! :-) Thank you for sharing your knowledge. I have learned so much and will apply all that I have gained back home and incorporate it into my daily life. You are a real inspiration ! Merci beaucoup pour tout ce que tu m'as donne.
Har OM tat Sat. Namaste
Shehnaz
p.s. I dedicate all my Urdhva Danurasanas to you !
Talalla, 12 October 2013


I will always be very grateful for having the opportunity to come to Talalla and meet Sandra. I have
great respect for her not only as a teacher, but also for the kind and lovely human being she is.
Coming to her at a time when I was finding my practice (and progression) irregular and lacking, I
found her classes to be a huge source of comfort; they inspired and nourished me and rekindled
my love of yoga. Sandra has such a wonderful energy: her smile, laugh, voice and touch all radiate
warmth and compassion. Her classes are always diverse and challenging, while encouraging
students to be patient and non-judgemental, and most of all, to have fun and enjoy themselves.
There is no doubt that her knowledge and wisdom make her a talented teacher, but it is her loving,
gentle guidance and deeply uplifting spirit that make her exceptional. I am returning home with
deep gratitude for having met Sandra and experienced her beautiful yoga classes. Food for my
soul! Thank you Sandra. I will miss you!
Mandanna Daemi, 21 October 2013

Dear Sandra,
I have had a wonderful time here at Talalla. Thank you so so much for all your advise, guidance and kindness you have sharm me over the past week. It has really taught me to finely tune a lot of the asanas. The group were all lovely and I thoroughly enjoyed relaxing, chatting and getting to know new people and of course, most importantly, the Yoga ! I will return to London refreshed and energised !
Merci beaucoup Sandra pour cette (trop) petite semaine de yoga au paradis. Le resort est superbe, le cadre vraiment exceptionnel. j'ai beaucoup apprecie echanger avec toi lors des delicieux repas. la pratique elle-meme est tres interessante et permet d'approfondir des points cles (j'ai beaucoup aime les back bends), et aussi la structure des seances est tres pratique et je pense l'appliquer a ma pratique personnelle. Nous quittons la retraite bien avant la fin et c'est bien dommage ! Bonne continuation, bon courage, nous restons en contact et nous te donnons notre avis sur Ulpotha, ainsi que nos contacts de Kundalini. Tres chaleureusement,
Frederique Prevost, 8 November 2013

Chere Sandra,
Merci pour nous avoir fait partager ces moments exceptionnels dans un cadre excetionnel ! Meme si les 2 premiers jours furent "difficiles" la fin du sejour est deja la. L'expereince de meditation et les exercices de respiration etaient noueaux pour moi mais tres enrichissants. Je repars detendue et avec plein d'energie pour retrouver ma famille. J'ai adore les exercices d'etirement sur les sangles (super agreable pour le dos...) Je te souahite "tout de bon"" comme ils disent a Lausanne ou Geneve. Au plaisir de profiter de tes conseils lors d'une prochaine retraite... (qui sait...?) Bonne continuation,
Marie, 9 November 2013

Tout d'abord ravie de t'avoir rencontree et partage tous ces moments avec toi. J'ai apprecie cette retraite, meme si parfois ce fut difficile (surtout d'etre presente pour la meditation...) J'ai aime ta facon d'enseigner, l'energie qui en ressort et surtout ton experience. Apres ces quelques jours passes a Talalla, je me sens repossee. Bien dans ma tete et pleine d'energie, malgre les courbatures de mon corps peu flexible ! La seance de ce matin avec les
sangles et le Heand stand avec la chaise m'ont beaucoup plu. Beaucoup de challenge personnel mais avec de l'aide et de l'energie on y arrive ! Quelle satisfaction! Pour finir, un granc merci pour cette retraite de Yoga, bien organisee et dans un magnifique endroit. Je te souhaite le meilleur pour l'avenir et une bonne continuation dans l'univers du yoga.
Affectueusement, Elodie, 9 Novembre 2013

Dear Sandra,
Thank you for sharing your knowledge and wisdom on all things "Yoga" Your calm and gentle approach has enable me to be more comfortable and accepting of the meditative state and I have learnt so much more about the meditation and pranayama aspect of Yoga that I will continue to incorporate into my current practice. Once again, thank you for a wonderful and inspiring retreat and all the best in the future. Hope to see you again here or in India.
Karen Chohan Nov. 9th 2013

Sandra,
The Yoga has been fabulous. I have learnt so much in such a short period o time. You are quite an inspirational teacher and so readily approachable. Thank you for a wonderful week. Good luck with your Vipasana in India. Perhaps our paths will cross again someday.
Toni Lewis, November 2013

Dear Sandra,
Thanks for a wonderful week of yoga. It has pretty much been what I was after – a relaxing and yet challenging (physically) week of yoga. Talalla is a fabulous place for a retreat – love the animals and all the greenery and it is great to be able to be in the midst of all this whilst practising yoga... and smelling the see. You have a very calming voice – even the dog things so !
Once again thanks / merci beaucoup !
Annelise Bonnici 9 November 2013

Hello Sandra,
Je tenais a te remercier pour cette merveilleuse semaine. Tous mes objectifs initiaux ont ete atteints et au-dela, ma quiete "to be happy and free" a progresse de facon considerable et je compte l'immortaliser, ou du moins l'encrer/ancrer en moi :-) Apres plusieurs annees de pratique du Yoga, je sentais qu'il me manquait quelque chose, un element que je n'avais pas encore reussi a cerner, ... la meditation. En effet, la meditation a vraiment ete LA Revelation de cette semaine. Je ne pensais pas pouvoir le faire ni meme imaginer ce que cela pouvait m'apporter. Je saurai desormais quoi faire dans le metro :-) Tout cela pour te dire MERCI. Pour ce beau voyage, pour ta patience, ta connaissance, ton experience, toute cette belle inspiration que tu m'as donnee et que j'espere, nous continuerons d'echanger. Je garde en moi le secret espoir de pouvoir un jour enseigner et partager cette passion du YOGA! comme tu le fais. J'espere a tres bientot, somewhere en Asie ou en Europe.
Namaste. xoxo Benedicte, 9 November 2013
p.s. Merci de m'avoir prise en modele et de m'avoir mise a la place du prof :-)

Merci Sandra,
Tu as fait de ce sejour a Talalla un pur moment de relachement et de relaxation. Pour moi qui n'avais pas reellement fait de Yoga avant, je repars de cette magnifique retraite avec de solides bases et une connaissance de la pratique et de l'"esprit" yoga qui me sera utile pour continuer ce travail de mon corps et mon esprit a mon retour. J'avais pour but de retrouver un equilibre et une certaine quietude et cet objectif est pleinement rempli... reste a pouvoir le garder. Je sais que lors de mes prochaines seances ou meme lorsque j'en ressentirais le besoin, je repenserais tres souvent a nos seances, a tes conseils, a ton etat d'esprit, a toutes ces petites phrases/poemes que tu as pu nous dire/lire et qui permettront, lorsque necessaire de retrouver cet equilibre. J'aurais aussi appris ce qu'est rellement la meditation durant cette semaine, tres interessant egalement et lorsque je prendrais 10/15mn pour oublier tout ce qui m'entoure je suis sure que je finirais avec une grande pensee pour toi. Mille merci !!
Juliette Nevers Dimanche 10 Novembre 2013

Dear Sandra,
Thank you for a wonderful week ! It has been a time in which all my senses and muscles have been heightened ! The yoga and meditation sessions have stretched my mind and body and given me inspiration to continue when I return home. On top of all that the surroundings are lush and beautiful creating the perfect setting ihtin which to practise. Thank you for all your patience, guidance and enth usiasm, you truly live the lifestyle you promote.
Sarah Algate, 10 November 2013

Dear Sandra,
Thank you so much for your classes. Not having done formal classes for quite some time, I always found your classes challenging. Your quiet confidence, clear explanation of Asanas and breathing and your gentle encouragement made the exercises worthwhile. And what a setting ! The grounds, the crashing of surf in the background, both of the yoga pavilions are all simply splendid. not forgetting the chorus line of squirrels behind you and the soundtrack of the bakers van, birch, dogs and squirrels only adding to the experience.
Once again, thank you. Simon Martin 5/12/2013


To Lovely Sandra,
Just a little note to say thank you for helping to make my stay at Talalla so special. Your classes have been wonderful - your calmness, serenity and sense of humour are inspiring – so is your bendy-ness !
I really hope we meet again. Lots of Love
Emma xxxx Dec. 2013

Hello Sandra,
We have been enjoying your classes sooo much. I know, I shouldn't but I feel sad that our treatment with you is heading to the end. We've learned a lot, indeed. Especially, me-Alena, because fan of Iyengar yoga. I found it very useful and these helpful thing as blocks, stripes, cushions, even the wall and chair.
You are doing really good/excellent job. We like all your explanations and your effort to adjust us if we did something wrong. Now, the rest is on us... practise, practise, practise :-)
Thank you very much. I just wish you teach yoga nearby us, so we could attend your classes regularly. Thank you,
Alena + BK, 7/12/2013

Dear Sandra,
Talalla and your yoga retreat will definitely be in the highlights of 2013 !
No matter how much one practices and no matter how much one reads/studies, there is always more room to grow and more knowledge to be added. In other words "you learn something new every day". And for this I thank you. Your openness, sharing, neutrality and free spirit made this retreat rather special. I also would like to mention that I enjoyed practising with our group.
People is really what makes a place memorable. And I am grateful, thankfull and very happy that I am taking with me not just a stretch out body, a soothed soul but also a few new friends.
:-) until we meet again !
xoxo Alexandra 8/12/2013

In the Beginning...
I am in awe of the human body. Having read and heard of all the possibilities did not prepare me for this experience.
Dear Sandra,
This is my thank you note.
Thank you for stretching my body to the outer limits,
Thank you for building my strength in my muscles.
Thank you for the air & energy that flowed through my channels.
Thank you for the quiet & peace so needed in my mind.
Thank you for the control that comes with so many tires.
Thank you for never giving up on me.
Thank you for pushing me when I needed to give more.
Thank you for holding back when my body cried.
Thank you for your faith and positive energy.
Thank you for opening my eyes and my sould to the universe.
This is my beginning and I am looking forward to seeing you again when it is right.
Have a good stay and all the best in your journey.
With all my Love.
Njeri 8/12/2013 Namaste


I very much enjoyed my time at Talalla & learnt a lot from the retreat (I just hope I can remember it all!) What I enjoyed the most was all the stretching & sun salutations. I also liked how every class we worked on something different. I was very uneasy at first about doing the headstand as I've had a bad experience with it in the past, but I'm happy to say I did it & now thanks to you will be more confident when trying again. When it came to the meditation my favourite one & the one I'd like to do more of is the Yoga Nidra. I thing the guided meditation was very peaceful & maybe you could use that more if others also like it. Only other suggestion would be that perhaps in the morning class when there's not so many people we could face the pool & beautiful scenery. Would make the sun salutations even more enjoyable. :-)
Wishing you all the best.
Ashley, 7/12/2013

This is my first yoga retreat and I really enjoyed it. I have done stretches of yoga in the past and was unsure if I would get bored doing 2 to 4 sessions a day. I wasn't, every class was new and interesting and my meditation ability actually improved for the first time in my life.
The yoga philosophy was even interesting (for a while :-) and all in all I think this will be the first of many retreats. Thank you,
Andrew, 7/12/2013
---
Testimonials 2012

Dear Sandra,
Thank you so much for this past week. Daily practice with you has helped to draw our bodies and minds back into shape. Your approach felt very thoughtful and personal, your teaching both gentle and challenging. We really appreciate the time and patience you have given to nurturing the start of hopefully a long yoga practice. Very best wishes to you.
Jacky and Greg, October 2012
---

Dear Sandra,
Thank you for a stunning week of yoga. It has been a while since I practiced everyday but your wonderful instruction ensured that I enjoyed a really fulfilling practise. Thank you especially for developing a tailor made practise for my whole family. I know this was a challenge… a 2 + 4 year old was ambitious !! they really loved it, so thank you.
I will look forward to returning to enjoy a retreat and a few more laughs.Kind Regards,
Rebecca Geer, October 2012
---

Dear Sandra,
Thank you very much for past few days when I learnt so much. I have been practicing yoga for few years, yet thank to you I have found new areas to work on and your lessons also taught me things I have been doing wrong for so long . You also told some great yoga tips and mainly about roots of yoga which enlightened my attitude to life and people, although especially myself! Thanks to rediscovering meditation. I've realized how beneficial, nurturing, relaxing and spiritual it can be. I am still looking forward to some classes here however I can say already thank to you, Sandra, yoga retreat was just what I expected and what I needed.
Hopefully I will have another chance to attend some classes with you around the world. Wishing you all the best
Zusana, Yoga retreat 24th October 2012
---

Sandra Namaste J
It has been such a pleasure to get to know you both as a yoga, meditation & pranayama instructor and a little bit as a person. Your kind gentle approach has been new and very much enjoyed throughout the yoga retreat. I will take many valuable lessons from you from this short time together. You have taught me about silence, the importance and benefits of sitting still and focusing inwards. I will leave here with an intention to increase my level of focus and dedicate more time towards quieting my mind, sitting still and breathing. I have also enjoyed your practice and teaching of holding the poses for longer periods than I am used to with my ashtanga flow practice. I have learned many ideas for teaching beginners about the use of props, walls and people and about breaking down poses to simplest form. Than you. Merci Beaucoup pour tout que vous avez emporte a moi.
Amanda Williamson, Yoga retreat, 10 November 2012
---

Dear Sandra,
Thank you for sharing "You" with us. The meditation and breathing session helped me to connect with myself at a deeper level. Your openness and gentle manner helped me to feel comfortable with the level I am at. Thank you for sharing your knowledge. Participating in your classes has helped me to commit time and my daily life to Yoga.
Namaste, Diamondbrook, Yoga retreat, 10 November 2012
---

Dear Sandra,
For shit nice and well exercising time it is easy to say thank you. You do a more than well done teaching and combined with your beautiful heart. The lessons made me progressing personally. A lot of thanks even to Tara who gives you, and because of that either to me, a spiritual impetus bringing the red and the white close together. I wish you good health and that time and space may fulfill your dreams.
Yours Steve, Yoga retreat, 10 November 2012
---

Dear Sandra,
Thank you so much for a wonderful retreat. I feel I have learnt so much in a short space of time. You have been amazing with us as beginners and have helped us so much to have such a great experience. Your calm manner is inspiring and the knowledge you have is fantastic. Your lessons have always been fun and I know we have all had such a good time learning new things and challenging our bodies and minds. I will take a lot away from this experience and thank you again for such a great time. I hope we can visit you again some time.
Best wishes
Lydia, Yoga retreat, 10 November 2012
---

Dear Sandra,
Thank you for making this yoga retreat so fun at the same time as being so interesting. This week has helped me understand what yoga is really about and I feel I have learnt so much which will help to keep me motivated and focused to continue when I get back to my day to day life. Thank you also for helping (together with the masseuse) to sort out my shoulders this week, I think they may just about be touching the floor now when I lay down ! I will be trying to keep them that way in the future.
I hope to visit Talalla again some time in the near future and hopefully my yoga will have improved once again by then.
Best wishes.
Jo x, Yoga retreat, 10 November 2012
---

Dear Sandra,
I arrived here as a complete stranger or more likely a newborn baby, who is just about to take the "yoga world".
And indeed, I did learn from the beginning how to breathe, stand straight, walk and of course stand on my head.
My body and my mind experienced feeling through, until now unknown words, such as relaxation and meditation !
Only because of you, your mind, genuine and supportive introduction and guidance I feel motivated and inspired again.
Therefore THANK YOU for being here for us, who are still discovering this beautiful and empowering world of yoga.
Looking forward seeing you around the world again soon.
Wishing you all the best
Ivana, Yoga retreat, 25th November 2012
---

Dear Sandra,
I arrived 8 days ago in this beautiful peaceful spot feeling like a "jellyfish", and a total novice to Yoga !
Your inner beauty and generosity have shone forth and warmed my heart, and your patience and encouragement have given me confidence in my body !
I leave here sadly, but with my batteries recharged and the belief that "where there are ruins, there may well be a hidden treasure!"
My wish for you is that you believe in yourself as much as I believe in you !
Thank you
Loraine, November 2012
---

Dear Sandra,
I'm practising yoga again after more than 3 years and I sincerely appreciate your style of teaching and encouragement which has got me to a point where I know I can and need to practise again regularly. So, thank you very much indeed. It has been great learning much more about what yoga truly is and how to incorporate it into our daily lives. I hope I can take a good part of this learning back with me and see a change.
All the best and maybe see you soon ! Best wishes
Janet Geddes (26.11.2011, Talalla retreat in Sri Lanka)
---

Dear Sandra,
Many thanks for an educational and motivational yoga retreat. Although I have practiced for a while you have given me a great overview of the "complete picture" which I was missing and needed to understand. Armed with this knowledge I am motivated to continue my practice and learn more.
Feeling flexible and fit. I look forward to our paths crossing again sometime soon. All the very best.
Jacquie Quinn (26/11/11, Talalla retreat in Sri Lanka)
---

Dear Sandra,
It was truly a pleasure spending so much time with you over the last two weeks! You greatly enhanced my experience here. Your wisdom, kindness, and encouragement took my practice to a higher level. Found your classes unique and uplifting. Your energy gave me compassion for my body as well as the confidence to try some postures I never thought I could do ! I will certainly miss the "high" your classes give me. I wish you continued success in inspiring others. I hope we meet again !
With gratitude,
Jamie McCarthy, Canada (Dec. 14, 2011, Talalla retreat in Sri Lanka)
---

Dear Sandra
You have provided such benefit to the whole family over the past week that we are forever in your debt ! To Neil, Caroline +Anna from direct experience of your wonderful teaching and to Tom (off surfing) who had a more enlivened and relaxed family to be with… We chose to come to Talalla specifically for the yoga + surfing and it has exceeded our expectations.
My experience of your teaching has been an increasing enjoyment of your skill, experience and sensitivity, you are very clear and always thinking how to give you class the best and most varied experience. We go with every intention of keeping up our yoga practice and hope that we can work with you again. Maybe in Australia ! Many many thanks for everything including your beautifully folded blankets !
Caroline, Neil, Anna + Tom (26 December 2011, Talalla retreat in Sri Lanka)
---

Dear Tara:
Like your class from the start till the end ! Receiving your calmness, warm smile, encouraging laughter's each and every second ?
You have perfect Yogic vibrant !!
From Fion, KarFoon, Malaysia 2011
---

Dear Teacher Sandra,
I enjoy every moment of your class. The way you speak and teach us felt calm and relax when doing the asanas.
I like when you said "think of your own motivation" because it really motivate me !?
From Justine Ee, 24.7.2011, KL - Malaysia
---

My Yoga Inspirator:
It is unforgettable and beneficial attending Yoga therapy class and workshop, which has been instructed by Teacher Sandra ? Travelling and sharing Yoga around the Asia countries, are really inspired me very much. Although it was just a short time have a personal chatting with you in the car (I used to fetch Teacher home ?, may you still remember), I learned and realised a lot from teacher ?
Hope you would come back here, M'sia and have a chance to look round to our country ?. You are patient, charming and a beautiful veggie female ?
P/S: Hope to see you again! Have a nice and enjoyable trip to Chiang Mai!
Shanique Low, your student in theory & workshop
---

Dear beloved Teacher Sandra,
Thank you for guiding us in our yogi path spiritually, mentally and physically. I appreciate all your teachings here in Kuala Lumpur. It inspires me in some way after attending the TTC and workshop.
From KokLun, manager of Dance studio, KL - Malaysia
---

Hi Sandra, Thanks for excellent yoga lessons at Talalla Retreat. You made my wife Viveca to realize that yoga could be very good, fun and challenging, and we both love your way of teaching.
Anders Zimdahl, Talalla retreat Sri Lanka, January 2011
---

I am happy to confirm that Sandra Caillet has been a teacher at our studio several months each year during the .. her teaching was greatly appreciated as was her trustworthiness,...(click here for reference letter)
The Yoga Studio, Chamg Mai, Sep 2010
---

I've been taking a Yoga Intensive with Sandra, her peaceful energy is truly come from inside out. When people teach you from their heart, you definitely feel it :) she is absolutely wonderful!
Boom Chappell (Sirilak Samanasak) Chiang Mai, May 2010
---

Dear Sandra,
Your explanation below is much appreciated. Thank you. I finally signed up for the Intermediate intensive, and I'm very glad I didn't miss it. It gave me a good opportunity to practice yoga with more strenuous efforts and to get myself exposed to new experience/ new people.
Through this email, I wanted to let you know that I have realized significant and unprecedented progress after regular practice with you over the past 7 weeks, and I am immensely satisfied with the result. My confidence and consciousness gained from this yoga immersion with you have positively changed my life which apparently seems to be calmer, livelier, and more mindful.
Thank you for paying close attention to every student in the class, assisting and correcting the postures when needed, and for creating intimate and relaxing learning environment. I'm very grateful for this and I'm very lucky to have met you. If you ever come to Thailand for teaching again, please keep me informed on your schedule. I do hope our paths will cross again.d
Safe travels Sandra,
Paew - Chokniti Khoosuwan, Chiang Mai 11 September 2009
---

I wanted to say a big thank you for guiding us through our yoga practice in the 2nd week of Rebecca's fasting retreat. I really enjoyed it and was one of the daily highlights for me. You were always so positive and motivational and encouraging. Along with your lovely smile, it was very much appreciated. Thank you.
Emma Clark, March 2009
---

... we highly appreciate her work dedication to the team. She is creative, ...pleasant to work with, hard working and ...I am strongly recommending her to any of her future employers...
( Click here for Chiva Som recommendation letter )
---

Then, in a pavilion above the gardens where the birds are still singing their morning song, it is Yoga with Tara. Her voice is soothing in low registers and a dusky French accent from an old movie. In her long, lithe, lean, perfectly conditioned body, she walks like a deer, but with two feet, light and firm upon the earth. She speaks in English, murmurs in ancient Sanskrit.
We do the sun salute and I feel the bones in my spine roll out, one at a time. Heart pounding, muscles shaking, I struggle with the difficult asanas (postures) and realise how much more strenuous yoga is than aerobics.
Tara has a, quietly joyous and gentle way with the art of yoga which makes the struggle pleasurable. I do not think of Tara as a woman, more like a running animal, her long stream of hair tied back into a tail; and her unadorned face reflecting the colt-like nature of her body. Later, I find out through Tara's web site (www.Tara-Yoga-Now.com) about her early encounter with the Dalai Lama and the decades of patient study and practice with great masters in India, Nepal, Thailand and Bali that lie behind her exquisite form and tranquil mind.
Extract from an article by Patricia Groves published in the Oman Observer – July 2008
---

Tara was great, very professional and always present and prepared. She emanates self respect that instills respect from others and a sense of trustworthiness in her expertise
Dr. & Mrs. Sultan, Chiva-Som, June 2008
---

To Sandra,
Thanks you so much for the past 4 weeks ! We've really enjoyed the classes and will continue doing yoga while we travel the rest of S.E. Asia using all the techniques you have taught us !
We've loved this experience.
THANK YOU ! Love
Helen, Gemma, Fiona, Kiri, Chiang Mai, July 2007
---

Dear Sandra,
It has been a real pleasure being with you in this time. You are really a very good yoga teacher. I enjoyed (and suffered!)
Maria in Goa February 2007
---

It's been great for me to build up some muscles + know that despite the tiredness I often feel I can be well + feel healthy !
A great start in the mornings + a different way of seeing the world from the headstand !.
Meditation retreat in Goa February 2007
---

Dear Sandra,
Your soft and gentle character is very special and very precious. Also your smiles reached right to my heart. Your teaching is prepared and done with so much care and you feel what the students need.
Thanks you so much.
Nicola in Goa February 2007
---

Dear Sandra,
Thank you very much for your teachings. You made us work but also you put a lot of energy and effort into your classes. You always had a well-prepared program for us, corrected us and gave us lots of warm smiles. All the best to you.
Nicola, Goa February 2007
---

Sandra,
Thanks for getting me back on the road in good shape, maybe see you in Thailand. Namaste.
James, in meditation retreat, Goa, February 2007
---

Dear Sandra,
The yoga clasess were, for me, some thing I've never done, but I enjoyed very much. I may suppose the long time and effort you have put in this, with love and compassion for health and life. Thank you for encouraging all of us.
Maria del Carmen. P, in meditation retreat, Goa, February 2007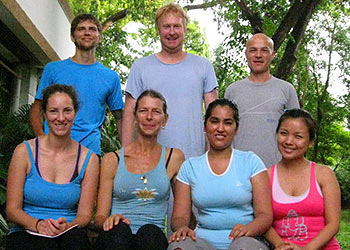 Intensive Beg. July 2010, Chiang Mai Thailand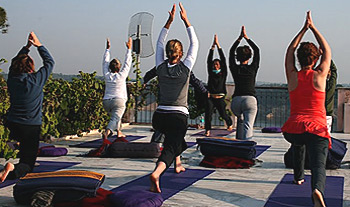 Yoga week at Basunti October 2009

Yoga week at Basunti October 2009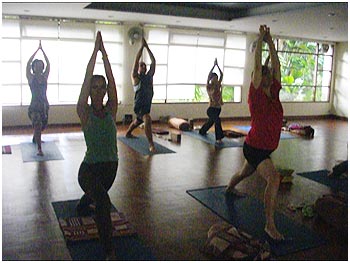 Yoga Intensive Chiang Mai